Its always a good idea to refresh your hair styling products every so often but as the weather warms up, summer is definitely the ideal time to revive your hair styling routine.
"As the weather warms, it's a great time to revisit what you're using, take a load off, or start working with your natural texture," says Pureology Artist Nanette Guild. Check out her tips for rejuvenating your routine below.
Pro Tip #1: Lighten Up Your Hairspray
Instant fix - lighten up your hairspray. Swap your hairspray for a styling product that still offers flexible control but has a softer finish.
Pure Artist Pick: Guild recommends Soft Finish Hairspray, a flexible-hold hairspray that is made with orange peel for weightless shine and control, and can boost your volume and tame frizz, sans the crunch. This natural and vegan hairspray is also made with an Antifade Complex that blocks the sun's UVA and UVB rays from dulling your color so you can spend less time in the salon, and more time outdoors.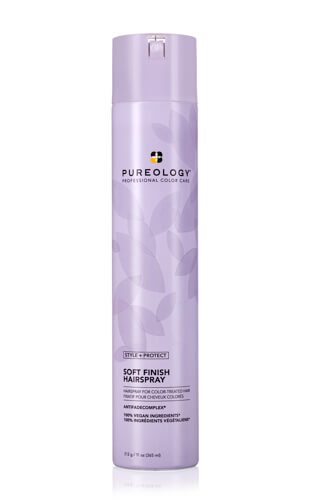 How to Use: Hold the hairspray 10-12 inches away from your hair, and spray in short bursts down the hair shaft to maximize shine and avoid wasting any product, says Guild.
Pro Tip #2: Skip the Heat
We all may be guilty of blasting too much heat on our hair, especially during the winter, but summer is the perfect time the skip the hot tools and embrace your natural hair texture. Instead, try a non-drying, non-fading texture spray that creates tousled waves. This spray gives beach waves and protects color-treated hair from color fade, heat damage and environmental stressors.
Pure Artist Pick: Style + Protect Beach Waves Sugar Spray adds texture and creates tousled waves for color-treated hair with key ingredient Sugar Cane and a signature aromatherapy blend of Tuberose, Almond Milk, and Cedarwood.
How to Use: Just spray onto damp or dry hair and using your fingers, scrunch hair upward to create texture.
Pro Tip #3: Find Weightless Texture
If humidity is your hair's enemy or your hair instantly falls flat when you step outside, the right texturizing hair spray will add texture and shine. The only downside? Some of the heavier formulas leave hair stiff, sticky, and matte.
Pure Artist Pick: Find moveable body and shine with a lightweight, texturizing spray like Wind-Tossed Texture Finishing Spray, which is made with sunflower seed extract to add a healthy shine without weight.
How to Use: Use the texturizing spray to add some oomph and grip to your favorite spring hairstyles, like braids or voluminous ponytails.
To see more hair care and styling tips follow @pureology on Instagram!
Related Products