Pureology Pure Artist Emily Alders weighs in on the best styling products for five different hair types and textures. Follow her helpful suggestions and get ready for those, "Your hair looks so good!" compliments to come pouring in.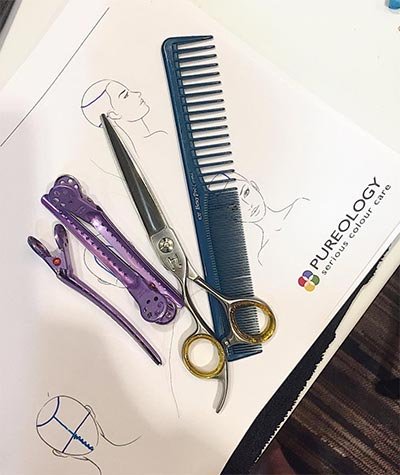 BEST STYLING PRODUCT IF YOU HAVE FINE HAIR:
Volumizing Hair Mousse: For fine or thin hair, adding fullness and body is essential. The best volumizing hair product for you? An airy mousse, like the new On The Rise Root-Lifting Mousse, which can be used not only on the roots, but also throughout the hair to create overall volume, says Alders. Bonus: It's a great product for second-day styling.
Pure Artist Tip: "Work a dab of mousse into the roots and blow-dry with a round-brush to revive an old style," she suggests.
Beachy Waves Spray: Wave sprays are another choice styler for fine hair. Alders uses the Beach Waves Sugar Spray (on both her clients and herself) which is made with sugar cane to create beachy, tousled waves without the crunchy, stiff feeling.
Pure Artist Tip: "I like to spray (beach waves spray) on damp hair before blow-drying, working it in with my fingers," she says. "The end result is lots of body, with that undone, beachy look."
BEST STYLING PRODUCT IF YOU HAVE THICK HAIR:
Oil-Absorbing Dry Shampoo: Dry Shampoo is everyone's hair BFF, but especially yours. "Women with thick hair tend to not want to shampoo as often, simply because it takes much longer," points out Alders. A good dry shampoo, like the Refresh & Go Dry Shampoo, will let you stretch out your style for days; credit rice starch, which does a great job of both absorbing excess oil and product residue, she says.
BEST STYLING PRODUCT IF YOU HAVE CURLY HAIR:
Texturizing Hair Paste: To enhance and define your curly hair, reach for a texturizing paste. Mess It Up Texture Paste will coax out your natural curl pattern and has a moisturizing shea butter base, ideal for curly hair, which innately tends to be drier. It also contains a built-in heat protectant, so if you do like to blow-dry, your hair won't get scorched, notes Alders.
BEST STYLING PRODUCT IF YOU HAVE FRIZZY HAIR:
Smoothing Hair Serum: Fight those dreaded frizzies with Shine Bright Taming Serum, a cream to shine serum that's ideal for taming fly-aways and errant hairs. "It looks and feels like a cream initially, but as you rub it between your hands it transforms into a lighter serum," explains Alders.
Pure Artist Tip: Whether you apply the smoothing hair shine serum on damp hair before blow-drying or directly onto dry hair, it seals the cuticle, leaving your hair smooth and shiny, she says. Work it through mid-shaft to ends and bid farewell to frizzy hair and flyaways.
BEST STYLING PRODUCT FOR ALL HAIR TYPES:
Hairspray: Everyone needs a good hairspray, right? Right. In this case, it comes down more to styling preference than hair texture.
Flexible Hold Hairspray: If you like to sport softer, looser styles (think a bouncy blowout), a flexible hold formula, like the Soft Finish Hairspray is your best bet, says Alders. "It's brushable and workable, but still lends memory and support," she explains.
Strong Hold Hairspray: On the flip side, Lock It Down Hairspray is a finishing and setting spray, perfect for keeping more structured styles—braids, ponytails, updos— in place.
Pure Artist Tip: Alders also likes to use it as a hair setting spray before using a curling iron; it doesn't hurt that it has a built-in heat protectant, too.
To see more hair care and styling tips and learn more about the new Style + Protect products, follow @pureology on Instagram!
Related Products